Andy was a little boy who lived on the settee. He ate all his meals on the settee. He played with his toys on the settee, and even had to play with his brother on the settee.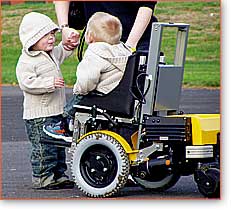 Then one day we came across a brochure for Dragonmobility. Inside we saw the most perfect powered wheelchair which was to change Andy's life and all our lives. So we investigated and phoned Dragonmobility. Dan and Lou brought a SnapDragon to our house for Andy to have a test drive; and my goodness the bright eyed little boy who lived on the settee changed into a bright eyed little boy with legs who had independence. He could fetch his own toys, play in the kitchen and get into mischief, play in the garden with his brother and now he can go to mainstream school with all the other children because he has found his legs.
Thank you to Dragonmobility for changing Andy's life and for changing all our lives.
Bev Speke
(Andy's Grandmother)