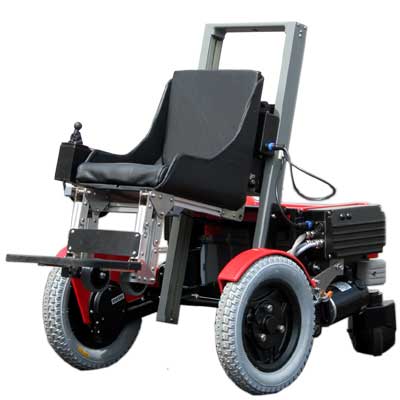 physical dimensions (see drawing and notes at bottom of page)
Maximum width: 608mm / 23.9"
(The minimum gap a SnapDragon
will pass through)
Tracking width: 560mm / 22.0"
(The distance between the centres
of the tyres)
Max chassis length: 799mm / 31.5"

Actual size of seat affects figures below :

Typical turning circle1 high2: 980mm / 38.6"
(The minimum width of a corridor in which the SnapDragon can turn round)
Typical turning circle1 high2: 650mm / 25.6"
(Minimum turning radius tested according to ISO7176/5 1986)
Typical max height5 (excl seat): 1066mm / 42"
Typical total weight6 : 105kg / 230lbs
drive systems:
Front drive wheels with pneumatic tyres, with puncture protection: 325mm (12.8") diameter
Rear ribbed globe castors: 150mm (approx 6") diameter
Electronic braking system applies automatically
Additional manual independent parking brake
Full elastomeric suspension (front and rear)
Powered by 2 x 36AH sealed lead acid semi-traction gel batteries
Range on a single charge7: 1 day of heavy use / 2 days of light use
seating and finish:
Each seat is custom made to suit individual needs so there are hardly any set constraints. If you would like to know more please contact us to talk about your requirements.
Typical seat base elevation8 from ground to approx 600mm / 23.6"
Elevator tilt angle 10-25 degrees
choice of six standard bodywork colours
characteristics adjusted for each user:
High speed limit - set anywhere up to 6.4mph
Low speed limit - set anywhere up to 3.2mph
Velocity or Torque control
Acceleration characteristics (from 'learner' to 'sports' performance)
Half-speed and/or beeper in reverse
Steering characteristics
Rapid or smooth (inching control) elevator responses
Joystick deadband to eliminate involuntary movements
user restrictions:
Max bodyweight: 40kg
Max external seat width: 440mm / 17.3"
chassis dimensions: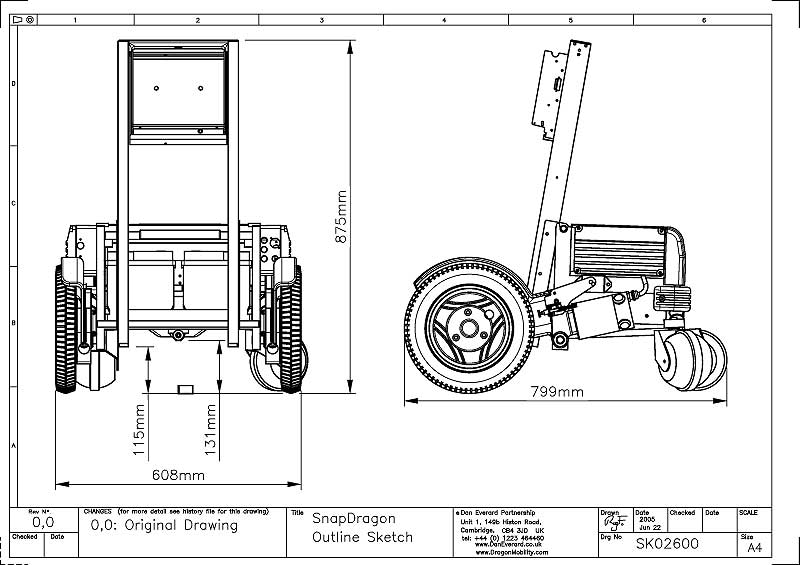 Notes
[*]Dragonmobility Ltd has a policy of continuous development of its products, and reserves the right to change any or all aspects of the above specification without prior notice.
[1] Turning circle is used here to mean the space needed to spin through 360 degrees, with about a 20kg user in a typical seat.
[2] High means here that the footrest is near vertical, i.e. the footrest wheels are above the ground.
[3] Maximum length depends on the particular seat and footrest dimensions. Length given is only an illustration, estimating for about a 20kg user.
[4] Low means here that the footrest is near horizontal, ie the seat is as low as possible.
[5] Maximum height depends on the particular elevator column and tilt angle. This in turn is dependent on user weight vs stability and is set individually.
[6] Weight depends on the particular elevator length and seat: its size, seating system used, complexity, etc.
[7] Precise range will depend on user weight, type of terrain etc. N.B. Range and life of batteries will improve significantly if the batteries are charged often, even for short periods during the day, as well as overnight.
[8] The elevation will depend on the seating system used, height of the elevator column and tilt, according to the weight and choice of the user.